Roof Cleaning Services in San Gabriel Valley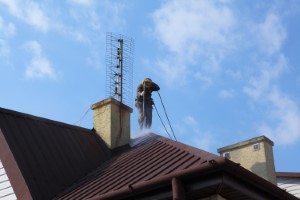 Roof cleaning is a great way to bump up the curb appeal of your home and lengthen the life of your roof. Let our Pasadena roof cleaning professionals get rid of all the grime and stains as a regular part of your home maintenance.
Whether you just need a one-time service or wish to set up a seasonal schedule, we would be happy to be your go-to pros. We can tailor our roof cleaning service to meet your unique needs.
Our pressure washing company uses appropriate roof cleaning methods for the roof type you own. We understand how to safely and properly clean asphalt shingles, metal roofing, tile roofs, and more. There's no ugly stain that we can't get out including those from rust, algae, moss, mildew or mold.
Do you need roof cleaning for a two-story house? No problem. We have the equipment and skill to pressure wash it for you thoroughly. We'll make sure every inch is treated with care.
We've done a lot of work throughout the San Gabriel Valley area, so contact us today to enjoy our expert quality workmanship.
Competitive Prices
Free Quotes
Top Quality Workmanship
Great Customer Care
If you are looking for a Pasadena roof cleaning company, call 626-727-2050 or complete our online request form