Your Experienced Painters in Alhambra, CA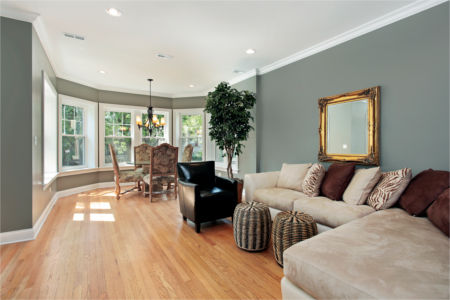 The quality of your Alhambra home's paint job will directly affect its resale value, curb appeal, and even well-being. So, you'll want to maintain those qualities as best you can, and to do that, simply call the experienced Alhambra painters at Bear Island Painting.
Whether you need an interior or an exterior painting, you can depend on our experienced painting team to handle the work quickly and effectively. If you want your Alhambra home to look its best, then be sure to call us for all of your house painting needs.
And speaking of getting your house looking its best -- we can help achieve this in another way, and that way is with a pressure washing. From your home's walls to its deck and fencing, we have the know-how and the resources to provide the most thorough pressure-washing services.
High-Quality Interior Painting Services in Alhambra
The quality of your home's interior painting service will directly affect the quality of the time you'll spend in it. After all, a shoddy indoor paint job can lower the quality of your Alhambra home's indoor air quality. What's more, if your home sports a faded, flaking interior paint job, your overall mood could be affected in a negative way as you spend much of your time in it.
If you want to avoid the problems that can come with poor indoor air quality and a negatively affected mood, then you need to keep your home's indoor paint job looking its best. And to keep your home's indoor paint job in the best possible condition, call our painting experts for our unbeatable interior painting services.
Call Us for Thorough Exterior Painting Services
Are you thinking of putting your Alhambra, CA, home on the market? If so, you'll need to put in a little bit of work to bolster your home's resale value and curb appeal. And a quick, overall effective means of achieving this is to ensure that your home boasts a stunning exterior paint job.
And if your Alhambra home's exterior paint job is not currently in the best condition, then you need to call your local painting company, Bear Island Painting. With our exterior painting services, we'll get your home looking stunning so that you can catch the eyes of potential buyers and so that you can command the highest possible price for it.
We'll Clean Up Your Alhambra, CA, Home with a Pressure washing
Because of its nonstop exposure to the elements, your home's exterior half is bound to suffer from fading, discoloration, and even the growth of unhealthy growths such as mold and algae. All of this can decrease your home's resale value as well as appearance -- while leaving you feeling far from your best.
So, over time, you'll want to check in and ensure that these issues are thoroughly addressed and resolved. And the quickest, most thorough way to undo these damages is to call your Alhambra pressure-washing pros for our pressure washing services. We'll work efficiently to provide quick yet thorough services that will get your home looking its best once more.
See What Customers in Alhambra, CA are Saying About Us
Bear Island Painting is not rated in Alhambra yet! Check back soon for reviews and testimonials in Alhambra.
---
If you are looking for a professional Alhambra painting company, call 626-727-2050 or complete our online request form